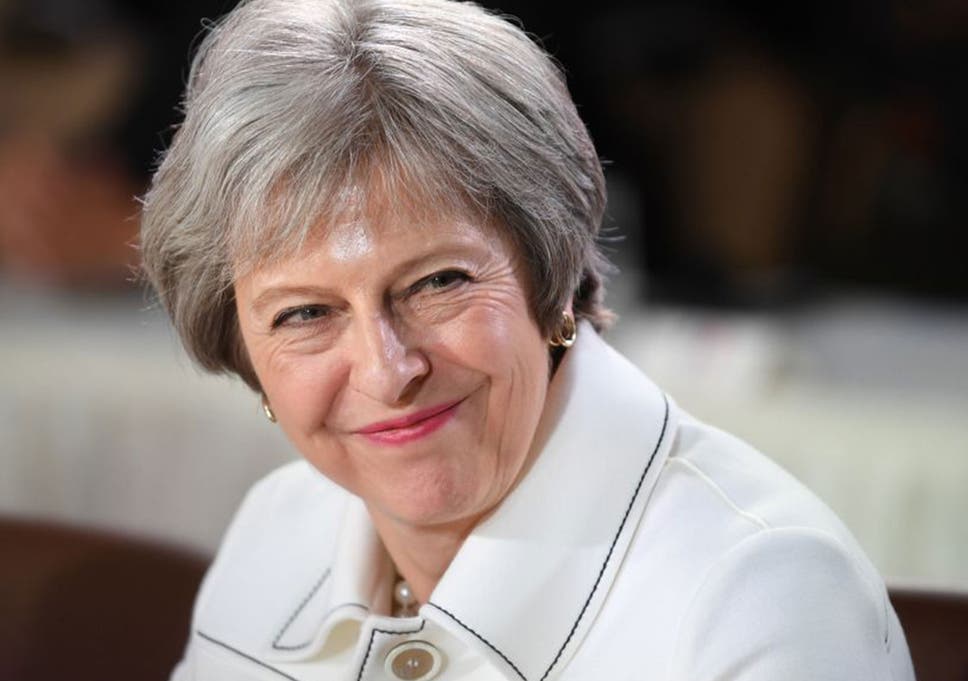 Theresa May has brushed off Donald Trump's outspoken attack on the EU over trade, insisting the West was still working "collectively" as a bruising G7 summit closed.
However, the prime minister refused to echo the Canadian prime minister's vow not to be "pushed around" by the US president – also insisting a trade deal after Brexit was still possible.
And she defended his decision to leave the summit early, arguing it was to prepare for his vital talks with North Korea rather than prompted by his fury with his supposed closest allies.
"Yes, he left this summit early – because he is going to Singapore to sit down with Kim Jong-un to discuss the denuclearisation of North Korea," she claimed.
"That is in the interests not just of North Korea, South Korea and countries in the region there. It is actually in the interests of all of us across the world."
Seven hours earlier, Mr Trump had condemned the other G7 countries, telling a press conference: "We are like the piggy bank that everyone is robbing."
A French official revealed that, at a session discussing US steel and aluminium tariffs on Friday, he did not appear to be listening as the other leaders made their case.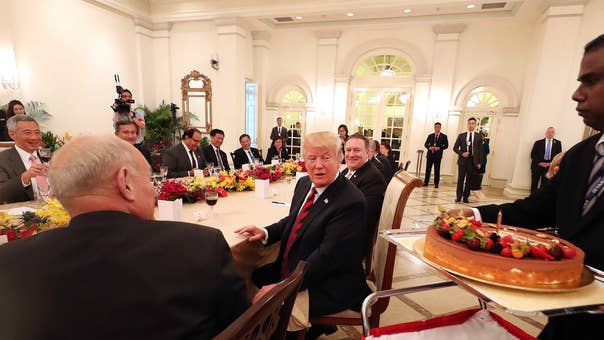 Mr Trump gave "a long, frank rant", the official said. He was reported to have demanded the removal of VAT from US exports to the EU, viewing them as a further, unjustified tariff.
Agreement on the communique was held up by Washington objecting to the inclusion of the phrase "the rules-based international order". The text issued read "a rules-based international order".
A single, stark photo issued by the German government captured the split – showing a grumpy, seated Mr Trump, arms folded, surrounded by apparently-exasperated other leaders standing over him.
But, speaking to reporters, Ms May pointed to the eventual agreement on a communique, other than over protecting the oceans from plastics – where both US and Japan dissented.
"We have agreed some steps forward that we will be taking collectively," she insisted.
The prime minister ducked a question about whether Mr Trump was simply "not listening" and said he was still "looking forward" to his visit to Britain next month.
Earlier, Mr Trump insisted his relationship with other G7 leaders was "a 10", despite the deep rifts over Russia and tariffs – but, strikingly, without mentioning the British prime minister.
"I would say that the level of relationships is a 10 – we have a great relationship. Angela [Merkel] and Emmanuel [Macron] and Justin [Trudeau]," he said.
Asked if she was concerned that Mr Trump failed to mention her, Ms May insisted: "We have all been working around the table here at the G7 to achieve the agreements that we have achieved."
As he left the summit, Justin Trudeau, Canada's leader, said his citizens, who had stood shoulder to shoulder with Americans for a century of foreign wars, felt "insulted" by the tariffs, adding: "We will not be pushed around."
And Paul Krugman, the Nobel Prize-winning US economist tweeted: "One thing about the past few days: I believe the short-term risks of a war in Korea have gone down. Trump will be too busy invading Canada."
But, in her strongest criticism, Ms May said only: "There have been some difficult conversations and strong debate, but, by working together, we have agreed on outcomes that shape a better future."